Are you unable to open your car? Did you lock your keys inside your vehicle? Our auto locksmiths are at your service 24 hours a day, 7 days a week.
Auto locksmith in London
Are you looking for the best auto locksmiths near you in London? You have come to the right place. If you have lost, forgot or locked your car keys, we can help you unlock the door fast, without damaging anything. Many residential and commercial locksmiths don't have the right tools to open a car's door and they will not be able to help you. Fortunately, our professionals are trained and equipped adequately for this kind of job.
If you need to go somewhere, or you are away from home and need to go back, but you realise that you can't unlock your car, all you need to do is to call our auto locksmiths. They will be on their way to you immediately, and in less than half an hour they will be working to unlock your door. We know how unpleasant can be to not be able to use your car when you need it, and especially when you are away from home and you have to go back.
Call vehicle locksmiths London anytime you have trouble opening your car's door, and they will be more than glad to help you. You will benefit from a free quotation and you can also ask about our prices.
Automotive locksmith services
Our auto services include:
car key cutting
car door unlocking
remote car key cutting
car key programming
lost car key replacement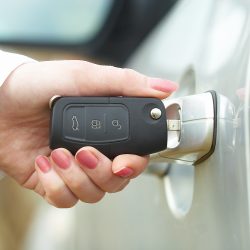 Cheap auto locksmith services
When you need a auto locksmith to unlock your car you probably are already in a hurry and you have to leave. Our mobile cheap locksmiths are everywhere in London, and they can reach your location in 30 minutes or less. Call us now and we will come as fast as possible, equipped with the right tools to unlock your car's door and let you go back at doing more important things.
Our car locksmiths work around the clock, to make sure that they can help you right when you need them to. Call us anytime of the day or night if you need an auto locksmith, and we will be with you in no time. With us you won't have to wait for hours before you can use your car again.
Open Locked car door
When you can't open a car's door the first thing you should do is to call a professional car key locksmith. It sounds easy, but this isn't always the case. Most locksmiths only deal with home and office locks and they don't have the equipment to deal with car doors. Fortunately, we are here to help you get inside your car in no time. We carry with us only the best tools to help us unlock your car as fast as possible.
With the right tools and training, our locksmiths are some of the best in London, and they are always at your service. You can call them day or night, and they will be on their way to you.