If you are dealing with a faulty lock, you can give us a call and we will send an emergency locksmith in your area to change locks, install locks and help you get back inside your house as fast as possible. Call us anytime.
Lock installation services
If you have a new door without a lock, or you need to install a new lock to an old door, we provide 24h locksmith services. We carry with us the best products available, for our customers. Having a top quality lock is very important for the security of yourhouse. Also, our locks are British approved, meaning your house will be fully secured.
Our experienced team can install new locks to wooden, metal or UPVC doors. We are using the best tools, and we do the job without damaging the door. It's very important to have a professional to install the lock, so you know everything will work as it should.
If you choose our products, you won't be needing any lock repairs or lock changes for many years to come. Choose quality at best price. Call us for a lock installation.
Installing new locks
Our lock installation services include:
Lock installations for wooden doors
Lock installations for metal doors
UPVC door lock installations
Emergency lock installations
Lock installations using your products
Lock installations using our products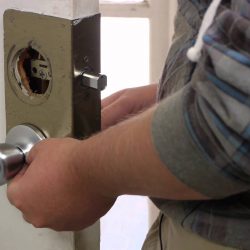 Best locks
When our customers ask us for a new lock, we try to give them the best products. Our technicians carry with them only top quality locks, to ensure your safety and security. A good lock, installed by our professional, will work smoothly for years to come, and will physically protect you from burglars and any type of intruders. Also, when you install a new lock, you know exactly who has the keys to unlock it.
Contact your London locksmiths today, and get more information about the products that we carry with us and the services we offer, and you can benefit from a free quotation.
Increased security
You always want to have the best locks installed, especially to your front door lock. A lock will not protect you 100% from burglars, however, it will slow them down, discouraging them and sometimes making them give up. The better the lock, the higher chances that you won't get robbed.
We have trained professionals, who can install new locks to any type of door or window. All you have to do is call them, and tell them what you need, and they will take care of the rest.