If you need a professional locksmith to help you change locks, give us a call. An emergency locksmith is always in your area, ready yo install locks and change faulty locks. Call us, we are 24/7.
Lock services for UPVC doors
By now, you probably have one or more uPVC doors in your house or office, because they can be more reliable than classic doors. Unfortunately, lock issues appear with uPVC doors too. This isn't a reason to worry. We are always available in your area. Call us now.
We repair, install or replace locks for UPVC doors at the best price on the market. Give us a call and see for yourself.
We can work with UPVC doors without damaging them. Have your uPVC door locks installed without having to damage your door.
If you need locksmith services for any kind of door, call a professional team to assist you. This way you know you will get the job done properly, and you won't have any more problems.
Locksmith services for UPVC doors
We provide any type of locksmith services for UPVC doors, such as:
Lock change for UPVC doors
Lock repairs for UPVC doors
Lock installations for UPVC doors
UPVC door lock management
Lock out services for UPVC doors
Emergency locksmith services for UPVC doors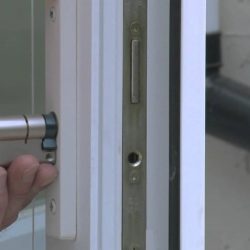 Professional services
As more and more UPVC doors are bought each day by our customers, we try to update our skills and toolkit accordingly. Being a different technology, the locks for this door type can also be different from the other ones, and they need more careful service. If you need a lock change, lock installation or you are locked out and you have a UPVC door, you can contact us at any hour of the day or night. We will bring the right equipment to deal with the problem as fast and efficiently as possible. We will not deteriorate the door in the process, and when we are done, you will have a fully functional lock and the door will look the same as before.
Why call us?
If you have problems with your UPVC door's lock, you want a locksmith that knows how to deal with them. Your London locksmiths are here to help you with your lock problem, whatever type of door you have. They have the necessary skill to deal with UPVC door locks without damaging anything. Using the right tools, they can change, repair or install your lock in no time, and the costs are low.
If you find yourself locked out of your home or office and you have a UPVC door, call us right now, and in less than 30 minutes we will be unlocking your door, so you can get back inside.