Emergency locksmiths are always ready to give you a helping hand. Whether you need to change locks or install locks, one of our experts will be in your area helping you deal with any lockout situation. Call an emergency locksmith anytime you need him.
Emergency locksmith services
We provide 24/7 emergency locksmith services for anyone in London. Cheap locksmiths are spread all over London and will help you unlock doors as fast as possible. Feel free to give us a call and one of our specialists will give you a helping hand. Emergency locksmiths change locks and install locks for office and residential doors.
We can take care of any lock related problem at any given time. If you need a fast lock repair or lock change, we are the ones to call. We can pick locks of any type, for any type of door.
We know how unpleasant it can be to have trouble with your locks when you are in a hurry.  Our employees are everywhere in London, so if you need an emergency locksmith near you, now you know who to call.
24 hour Emergency Locksmith services
Our 24/7 locksmith services include:
Emergency lock repairs
Emergency lock changes
Emergency lock installations
Emergency key extractions
Emergency lock out services
Emergency break-in repairs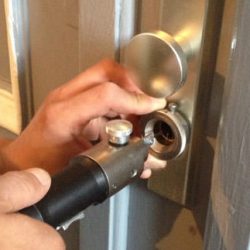 Lock outs in London
Did you come home late in the afternoon, after a long day at work, just to realise that you don't have the keys to your home? Maybe you lost them or maybe you just forgot them on the table. Whatever the reason, you probably want to be able to get inside as soon as possible. You don't have to break the door or a window to get inside, call our London 24 hour locksmiths instead. They will come to assist you in no time, at any hour of the day or night.
Your home isn't the only place you can get locked outside of. You can also find yourself locked out of your own office right when you have to finish some work. Our emergency locksmiths are here to help you unlock your office door as fast as possible, so you can go back to work immediately.
Fast locksmiths near you
In case of lock out, or other lock related problem that needs to be fixed immediately, you need a fast and efficient emergency locksmith near you. We have technicians in every area of London, who can reach you location in under 30 minutes, and who will start evaluating and fixing your locks as soon as possible.
We use the best tools to change locks and extract keys. You can return to your day to day tasks without having to postpone important activities. Call us now and benefit from 24h locksmith services.
You can call London locksmiths whenever you need them, they are always waiting for your call. It doesn't matter if it is in the middle of the night, or really early in the morning, they will always answer your call.