Did you forget your keys? Is your key stuck in lock? If so, you can always contact an emergency locksmith in your area. We are always ready to give you a helping hand so don't hesitate to call us. We are available 24/7.
Locked out Locksmith
It can happen to anyone to forget home or office keys, and remain locked out. Fortunately, we can help you get right back inside. All you have to do is give us a call, and we will be there in less than one hour.
Being locked out of house can be very unpleasant, especially after a long day at work. If you can't find your keys, or your lock is broken, we can arrive anywhere in London in 30 minutes or less. You don't have to wait anymore, just give us a call.
Being locked outside your office on the other hand, can set you back with your work. That's why we are here, to help you get in as soon as possible.
If you find yourself in a situation like this, don't hesitate to call our professionals. They will make sure that you can go back to your day to day tasks in the shortest time possible.
Locksmith services in case of lock out
Are you locked out? check out our services:
Domestic lock out services
Office lock out services
Emergency lock out services
Wooden door lock out services
Metal door lock out services
UPVC door lock out services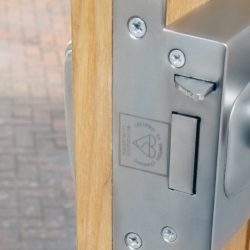 Home lock out services
Coming home after a long day at work, just to realise that you can't unlock your door can be very frustrating. You probably planned to relax after a stressful day, but you get even more stressed by the situation you are in. The best thing to do is to call your London locksmiths right away, and they will come as fast as possible.
You don't have to break a window to get inside, instead, just call us, and a technician will be unlocking your door within minutes. In some cases, we don't even have to drill through the lock to unlock your door, and there will be no damage at all. Call us now in case of home lock out.
Office lock out services
Did you get locked outside your office just when you had to finish a project? Then you know how much a fast locksmith can help you. We don't want you to get set back with your work, and for that, our experts are always ready to come and assist you. They will come immediately after they get your call. In 10 to 30 minutes, they will be unlocking your office door.
With London locksmiths, you can get any door unlocked with minimal to no damage if possible, and if the lock must be drilled, we can always replace it with a new one.