Do you have a lock that needs to be changed? Call our experts, and they will come to assist you. We use only the best tools and locks, so you can count on our services.
Lock change services
If you need a lock change for one or more locks, we recommend you to call a professional team. Our experts have years of experience in changing locks, so when they are done you will have a new lock, and the door will be undamaged.
We carry with us only British approved locks. They have superior quality, and they are guaranteed to last for very long periods of time. With our locks, you won't have problems for many years.
Our team uses the latest tools on the market, so your door will not get damaged in the process of changing the lock. When we are done, you will have a brand new lock, and you door will be untouched.
We have years of experience in changing locks, so if you need the job done well, don't hesitate to give us a call. We will come to assist you in 30 minutes or less with a lock change, anywhere in London.
Lock replacement services
Our lock locskmith services include:
Emergency lock change
Wood door lock change
Metal door lock replacement
UPVC door and window lock improvement
Lock change using your and our product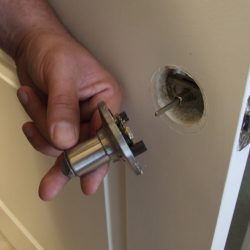 Security first
The first thing you should keep in mind when replacing a lock is your security. You should always call an expert, who knows what he is doing, and you should always ask them for top quality locks. Our London Locksmiths carry with them locks only from trusted brands such as Banham, Mul-T-Lock, Yale and many more, so they can keep our customers safe. A better lock can mean a higher initial cost, but the advantages are well worth it, so you should always go for quality. Our technicians will professionally change your old lock, and they will make sure that everything works as it should before they leave. All you have to do is call them and they will take care of the rest.
Quality service and products
We have experienced professionals waiting and always prepared to come and assist you with any lock related problem, such as a defective lock that needs to be replaced. They are trained to work with the latest tools, and they carry with them top quality locks and products, in order to ensure your safety and security, and also, their tools let them work fast, without damaging anything else in the process. If you want a job well done, by an experienced locksmith, you can contact us anytime, we are always here to answer your call. In less than half an hour, one of our experts will be at your door, ready to start working.